16' McKenzie River Drift Boat

This boat was designed as a fly fishing boat for rivers. I started building this boat in August of 2000. After nearly two years of sporadically working on it, I finally finished it in June 2002.

Overall, this was one of the most rewarding projects that I have ever worked on.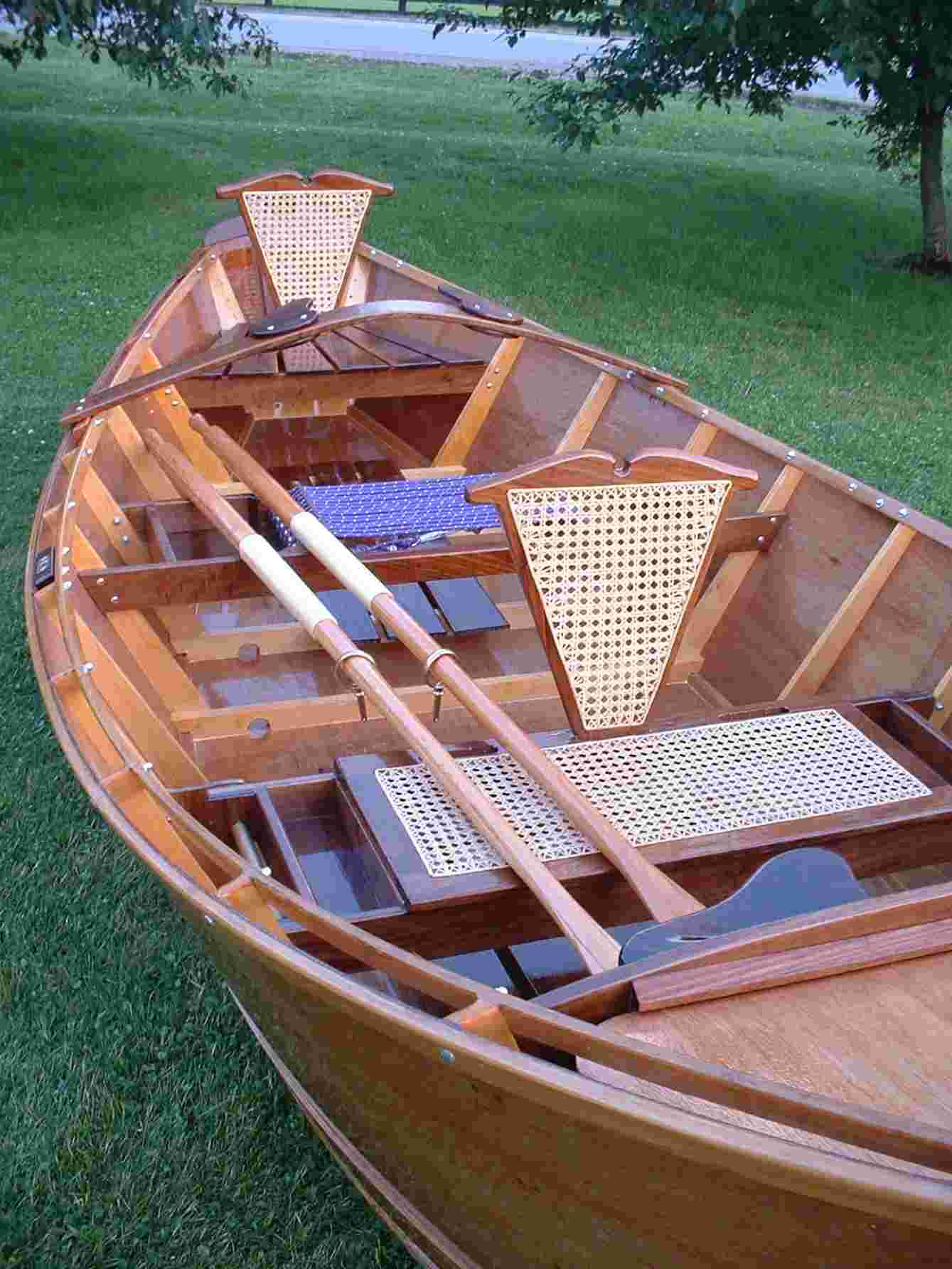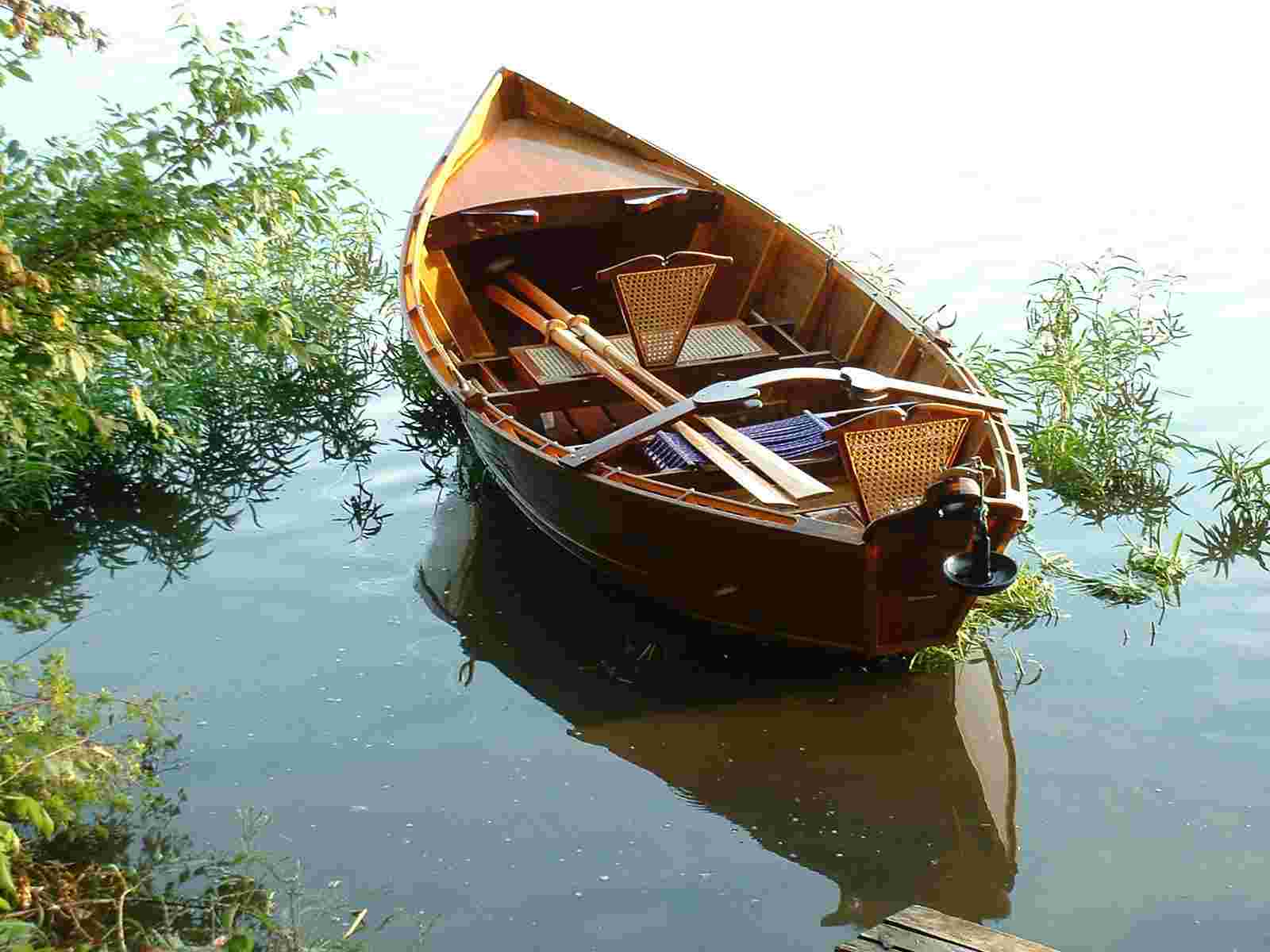 I bought the plans and a rib kit from Tatman Wooden Boats in Springfield Oregon. Tatman sent me the ribs which were cut and assembled on a jig and then disassembled for shipping. The rest of the boat was built from scratch mostly using his plans as a guide; however, I did take some liberties with non-critical parts and wood types.
Here is a list of the woods that I used in the construction:
Black Locust: Gunwales, chines and battens
Black Walnut: Seats, floorboards, knee braces, transom handle
Alaskan Cedar: Ribs
Cherry Burl: Veneering of inboard transom, rear knee brace blocks in gunwales
Mahogany: Stem, Veneering on outboard transom
Marine Grade Meranti Plywood (British Standard 1088): Sides and bottom
Douglas Fir: Oars and Transom core
The black locust and walnut trees were cut on my Dad's farm in West Virginia. We took them to a sawmill to have them cut and left them in his barn for over a year to season. The locust log was cut to so I could make the gunwales one-piece. What I didn't use on the boat, I used on a new workbench for the shop. I read some old books on boatbuilding and locust was mentioned as a good boatbuilding wood. We use locust for fence posts on the farm since they last a long time (40+ years) under adverse conditions. I found the cherry burl in a pile of firewood and asked the owner if I could have it. I sliced it up and used it to veneer the inside of the transom. It turned out to have very nice grain, so I am glad that I saved it from the firewood pile.
Nearly all of the wooden parts are encapsulated in 2 coats of System 3 Epoxy with 3 coats of Epifanes Marine varnish. The bottom of the boat is protected by a 1/4" thick UHMW skid plate. I hand-caned the front seat and seat backs in a hotel room in the evenings while I was on a 2 week buisiness trip. I had rattan all over the place, hanging from the shower curtain rod and on the bed. I am surprised they didnít throw me out of the place. I had looked at numerous boats in Wooden Boat magazine and saw some caned seats on an Adirondak Guide Boat that I liked, so my seat-backs are inspired by the ones that I saw on that boat. I also looked at many different drift boats on the internet and picked out what I liked about certain designs and incorporated them into my boat as best that I could. I carved out the oars with a draw-knife, spoke shave, plane and gouge. I mounted each on my wood lathe and moved the tail-stock to another table in the shop since my lathe bed is only 4ft. I set my lathe speed as slow as it would go (300 RPM) but the wood flexed too much even with a steady rest and fir does not turn well anyway. Mounting it on centers; however, made it much easier to carve than just mounting it in a vise. One other adventure was steam-bending the rear leg brace. I had always wanted to try steam-bending, so I set up a simple rig and it worked out quite well. I also steam-bent some locust pulley supports for the anchor system.
We launched the boat at a lake in the first week of June 2002 to try it out. My wife and kids and our Labrador Retriever, Colby went along for the maiden voyage. We caught a few fish, Colby went for a long swim and retrieved rubber ducks and the boat didnít leak, so I suppose that qualifies as a successful launch and recovery. I had to adjust the oarlocks when I got home since I didnít have them aligned correctly which made rowing more difficult than it should have been. After I fixed the oarlocks we took it down the river, which is what the boat was designed for in the first place. It is very responsive and I had a tendency to over-control it at first, but once I settled down things went along just fine. I need much more practice before shooting any whitewater though. Getting the boat registered was quite a chore as well. Because it was homemade, I had to have a watercraft officer come out to the house to inspect it. Then I had to wait for the Division of Watercraft to issue me a Hull ID # so I could get a title and then register the boat. If the boat was under 14', I would not have had to title it.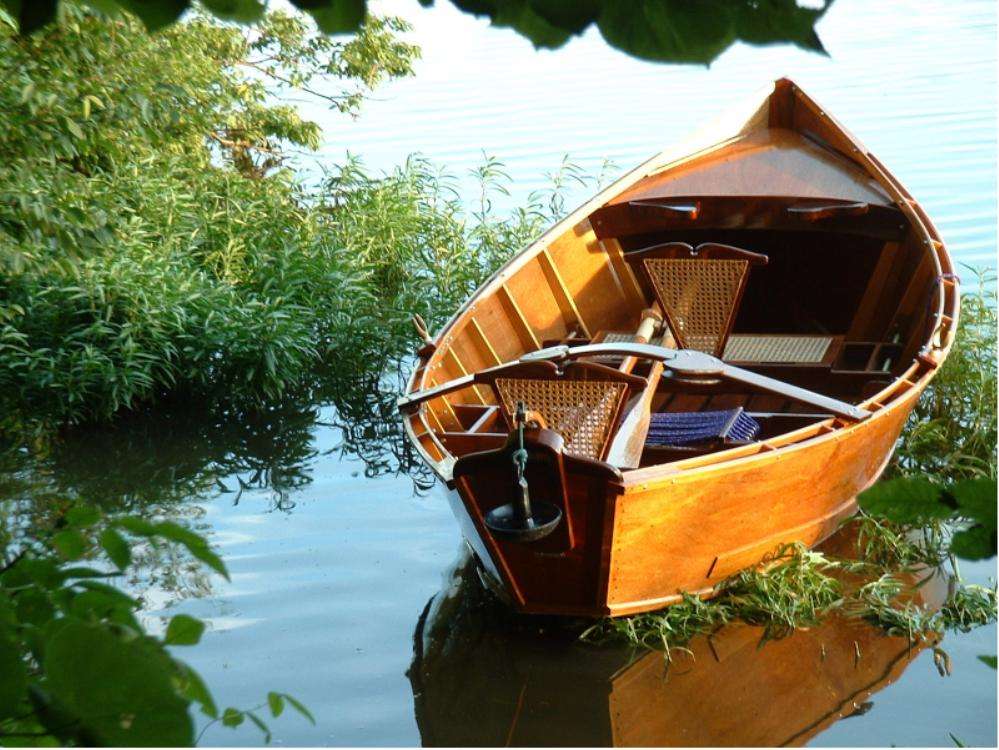 Building the Boat
The sides wrapped around the ribs, with gunwales, chines and battens on sawbucks in the background.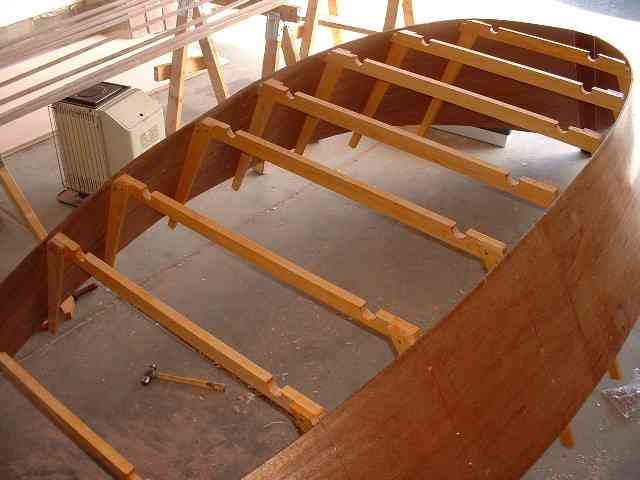 Below shows a power planer that was used to scarf the plywood. Since plywood usually comes in 4'x8' sheets and you need 4'x16' sheets you have to put two sheets together. The venerable scarf joint is the only way to go. It involves cutting shallow (12:1) bevels on two pieces of wood and gluing them together. Note the jig for the power planer. This jig holds the planer at the proper bevel angle. Such jigs are commercially available. Ads can be found in "Wooden Boat" magazine. The commercial variety only fits particular models of planers so I had to custom build one for my planer. The design works extremely well. After the bevels are cut, I mixed up some System 3 epoxy and wet out both bevels. After wetting out, I mixed some more epoxy, with wood-flour and colloidal silica. The mixture was applied to both bevels and the two sheets were matched. 120 lbs of tube sand was placed on each joint while the epoxy cured. Wax paper was placed on both the top and bottom surfaces of the plywood to keep it from sticking to the floor and sandbags. To me, scarfing was the "qualifying exam" for building the boat. If I got through this process, I was confident that I could build the rest of the boat. You could also buy the plywood pre-scarfed directly from Tatman as part of a complete boat kit. I must say that buying marine grade plywood was a major hassle. It had to be drop-shipped and I had to pick it up at a freight terminal. Freight costs were nearly as much as the plywood. I would seriously consider buying the whole kit from Tatman, if you want to save time, trouble and money.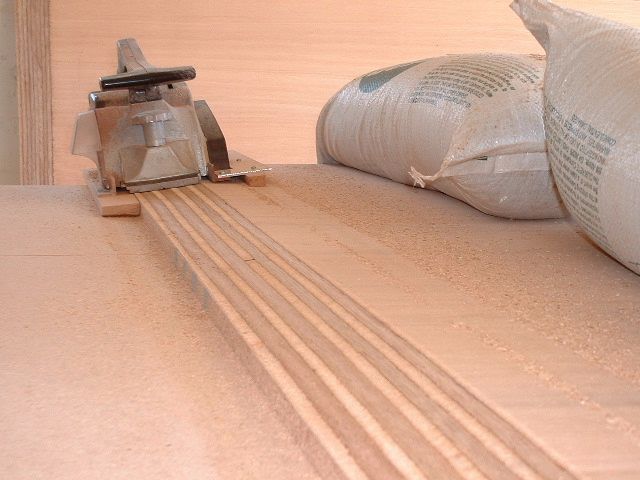 After the joints cured, the epoxy that seeped out of the joints was cleaned up with a hand scraper. The hand scraper is just a simple piece of specially prepared steel the takes off lacey shavings of wood and epoxy. Scrapers don't clog like sandpaper and leaves clean surfaces that are roughly equivalent to surface polished with 600 grit sandpaper. I wouldn't build a boat (or a cabinet for that matter) without one, they will save you hours of aggravation and piles of sandpaper. The best ones are made by "Sandvik" and it is well worth the time to learn how to sharpen one. They are sharpened by using a file to make the edges perpendicular to the wide flat surface. The burrs are removed by rubbing the wide flat parts on a fine whetstone. The edges are also rubbed on a fine whetstone. Finally the scraper is placed in a vice and a piece of hard steel is used to burnish the corner edges to form a curved lip along each edge that you will be able to feel with your fingernail. The burnisher is held at about 5 degrees with respect to the edge (85 deg wrt the wide flat part) while it is drawn with pressure along each edge. See Peter Korn's "Working With Wood" book for a more in-depth discussion of the process. You can see a scraper and the shavings as well as a cleaned-up scarf joint in the picture below. The scraper is held with both hands and slightly flexed. The more it is flexed the deeper it cuts.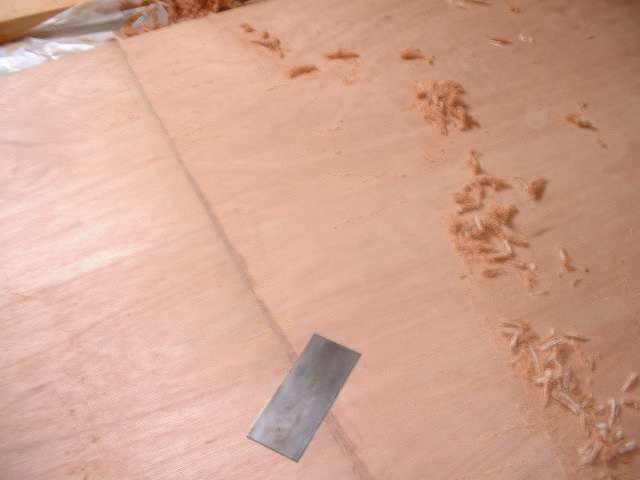 The scarf joints are very strong and showed no signs of failure as the plywood was bent around the ribs.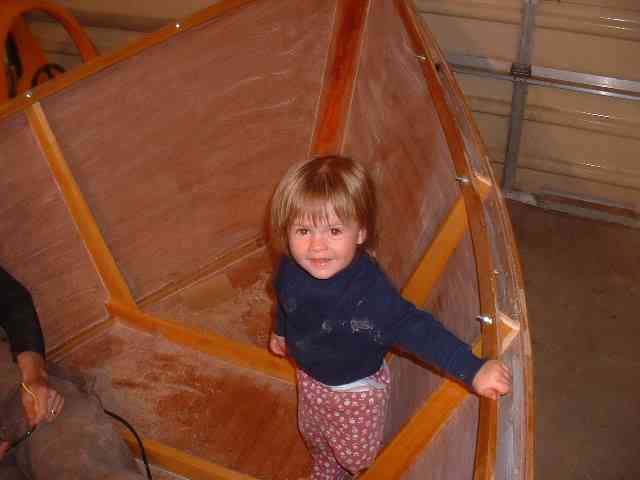 Much of the finishing work can be performed with the scraper, but you will still have to do your share of sanding in some of the more inaccessible spots. Here, one of my helpers is checking to make sure my work is up to spec.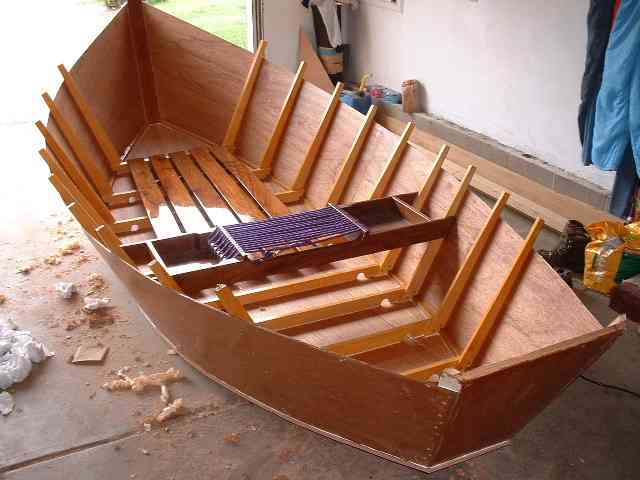 The seats and floor boards were built and finished in the shop before moving them into the garage for installation.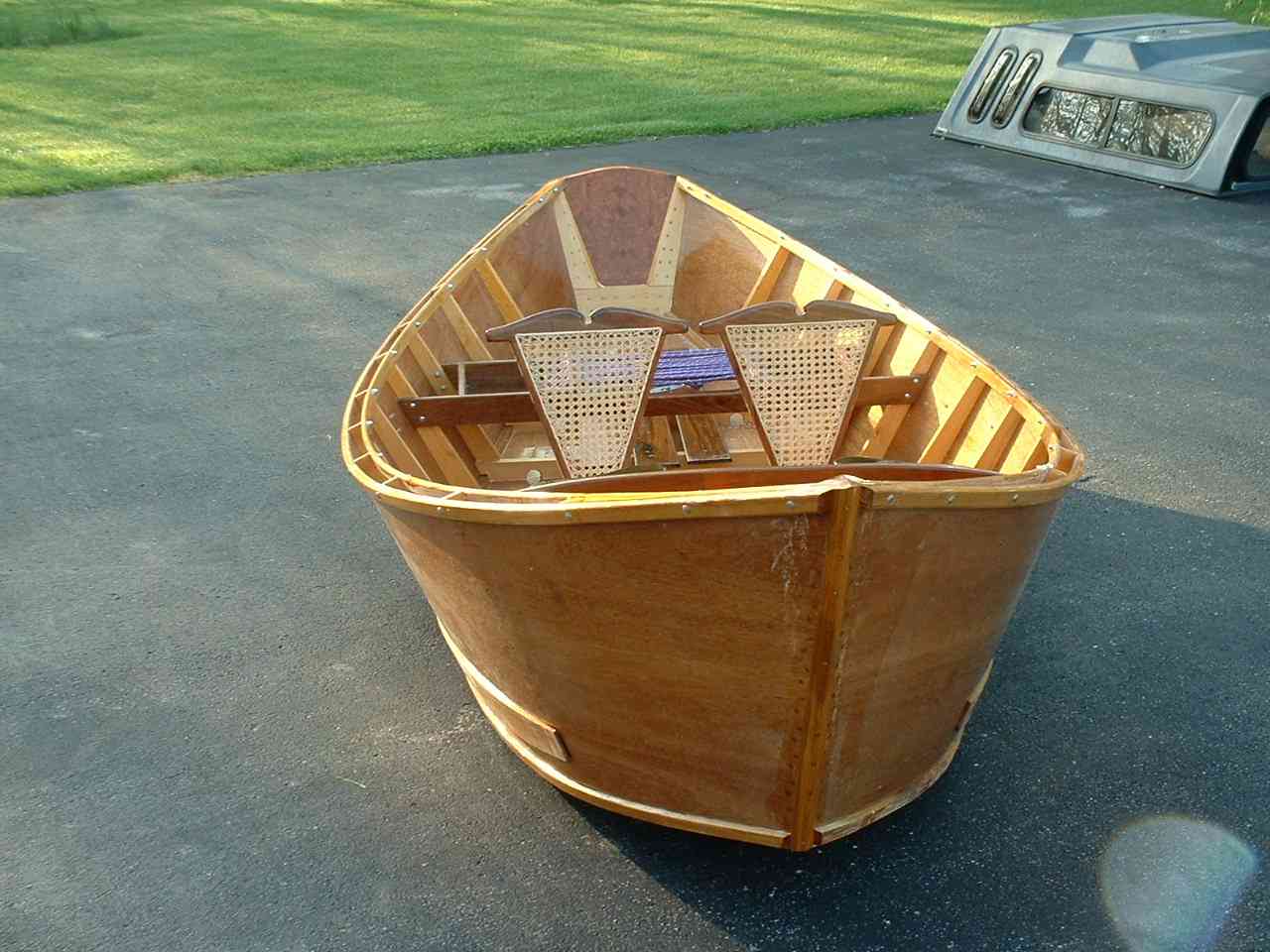 The unfinished boat was pulled into driveway for a quick photo-op. Note that seat-backs are interchangeable. About a month after this shot was taken, the boat went out for its maiden voyage which was described at the top of the page.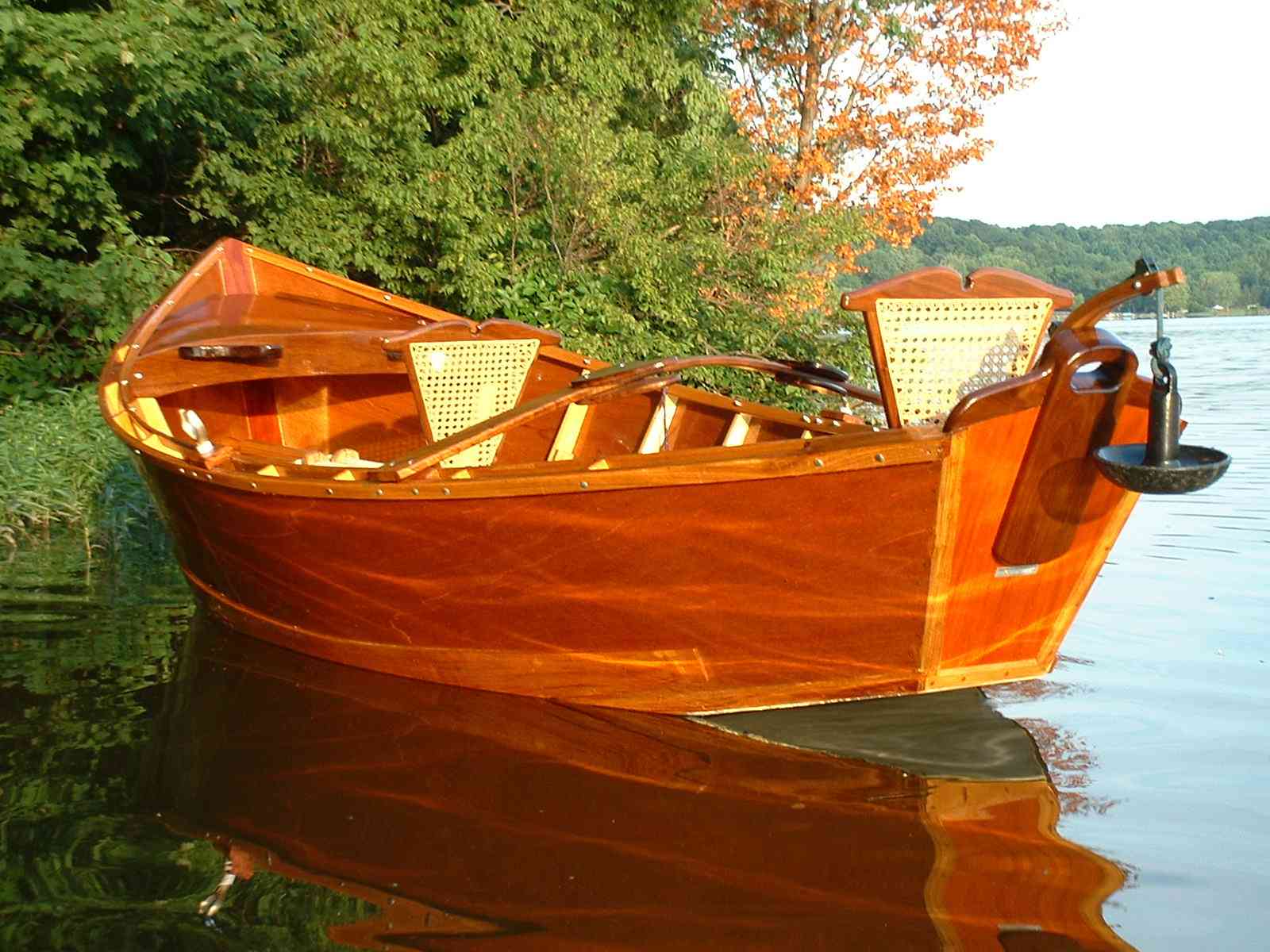 Reflections on Kiser Lake near St. Paris Ohio.
Copyright © 2003, David B. Doman, PhD, All rights reserved.